All environmental impacts of a bus's life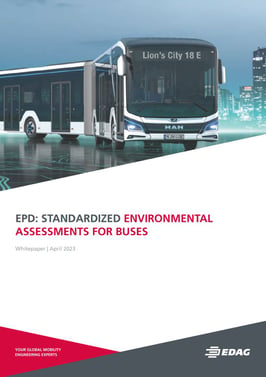 If climate and environmental protection factors are to play a role in the purchase of buses and coaches, facts are required. Environmental product declarations (EPD) provide standardized and externally verified results of environmental assessments. In addition, they can also serve the manufacturer as a starting point for further optimization.
Originally developed as a comparative instrument for sustainable construction, to enable customers to make a realistic comparison of building materials, methods and services, environmental product declarations (EPD) are finding their way into more and more product areas. These standardized environmental assessments based on ISO standards take the entire product life cycle into account, are certified by an independent party, and enjoy a high level of trust among customers and clients, meanwhile also in vehicle construction.
Bus manufacturer MAN Truck & Bus SE, for instance, has already had EPDs drawn up for four of its models. Project partner EDAG took care of the data collection and analysis and of performing the life cycle assessment (LCA), which describes the relative environmental impacts from the sourcing and processing of raw materials to operation, disposal and recycling. Once the EPDs are available, the environmental impact of buses with different powertrain technologies can soon be determined – sometimes with interesting results.
The white paper "EPD: Standardized Environmental Assessments for Buses" shows how the EPDs are structured and what possible uses arise, apart from sales. In addition to the optimization of products and manufacturing processes, this also includes informed decisions concerning the materials and components used. Download the white paper here.
Download white paper now
* Mandatory Field
** EDAG Group: EDAG Engineering Group AG, EDAG Engineering GmbH, EDAG Production Solutions GmbH & Co. KG, EDAG aeromotive GmbH