Digital Twin for Optimized Production Processes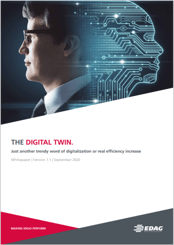 The more demanding a technology or a product becomes the more difficult it is to produce efficiently.
And this is where the digital twin comes into play.
It is an integral part of Industry 4.0 or Smart Factory - the networked factory - and opens all the opportunities that we believe are necessary for technological change.
Efficient engineering and effective automation.
The basis of the digital twin is always the Internet of Things, lots of highly complex, structured data, simulation and behavioral models. All of this results in an exact virtual image, a digital clone, so to speak. Especially in the operating phase of a plant, the digital twin is enhanced by AI, Artificial Intelligence, which in turn is based on the use of neural networks, the linking of mathematically defined units.
In this way, the digital twin makes its contribution, for example, to optimize production processes and make them more efficient. It enables simulations of which functions a production system should have for the planned product or how it can be produced at the end of the day at the lowest possible cost and with what output.
In our whitepaper, we explain the areas of application and when to use the digital twin.
Download now!
Download now
* Required field
** EDAG Group: EDAG Engineering Group AG, EDAG Engineering GmbH, EDAG Production Solutions GmbH & Co. KG, EDAG aeromotive GmbH