Greater Efficiency and Flexibility in Bike Development

In recent years, the transport revolution has been progressing at least in one respect: The bicycle has been enjoying a real boom. A major role has been played here by the electrified variants, i.e. pedelecs and eBikes.
Now, traditional manufacturers and newcomers alike are under pressure to respond to the high demand and current trends, and come up with appropriate offers. As competition becomes increasingly tough, one key factor is the time it takes to transform an innovative idea into a finished product. The limiting factor in the company here is generally what resources are available. But latecomers will lose their market share and possibly also their reputation as an innovation driver.
So using an external development partner like EDAG could well prove worthwhile.
Since 2019, the world's largest independent partner to the mobility industry has been offering all the design, development, testing and prototype construction services required through its department EDAG Bike.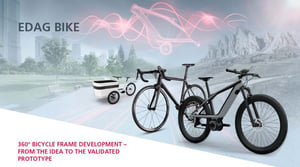 The company's 360° skills make flexible single-source development - and therefore enormous gains in efficiency - possible. Because coordinated processes are not only faster, but also more cost-effective.
An outline of the reasons in favor of external development and of the tasks EDAG Bike can take on can be found in our compact EDAG Bike fact sheet. Further details are provided in our white paper: "Integrated Bicycle Development by EDAG Bike: Idea, Development, Prototypes & Testing". This also includes an illustrative use case describing how a prototype frame is created for a customer.
Download whitepaper and factsheet now
* Pflichtfeld
** EDAG Group: EDAG Engineering Group AG, EDAG Engineering GmbH, EDAG Production Solutions GmbH & Co. KG, EDAG aeromotive GmbH