Many challenges are keeping suppliers busy and calling for quick solutions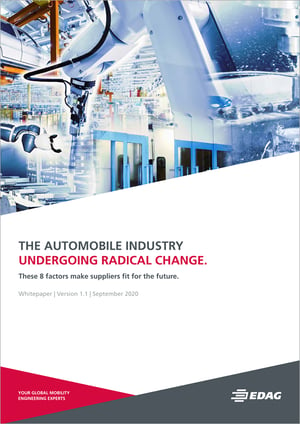 In recent years, the automotive industry has had to adjust to new trends and challenges that have dynamically changed the industry. The focus is not just on digitalisation, eMobility and alternative powertrains, but also on the increasing complexity of vehicle networking.
Any OEM wishing to enter new sales markets in the future will have to meet these changing market requirements. These are not, however, changes that affect only the OEMs themselves; the entire automotive supplier industry is involved. Many suppliers find that, because of the high degree of cost and competitive pressure combined with extensive investment costs involved, the only way they can build up complex capabilities and meet the requirements of the OEMs is by cooperating with an engineering service provider.
Tips and recommendations for system suppliers
The free white paper provides you with tips and recommendations on how to master the current challenges and successfully guide your company through these difficult times. Our aim is for you to emerge from the crisis stronger than before, perhaps even to gain a foothold with new OEMs, or to rise to a higher hierarchical level in the supplier pyramid.
The white paper focuses on the most important questions system suppliers have to face, including the following:
How do you manage the various different OEM standards?
From "Build-to-Print" to "Build-to-Specification"?
Are you familiar with all necessary processes within the OEM structure?
Does your production structure meet OEM requirements?
Register now and download the free white paper.
Download now
* Required field
** EDAG Group: EDAG Engineering Group AG, EDAG Engineering GmbH, EDAG Production Solutions GmbH & Co. KG, EDAG aeromotive GmbH