Take a close look when choosing your suppliers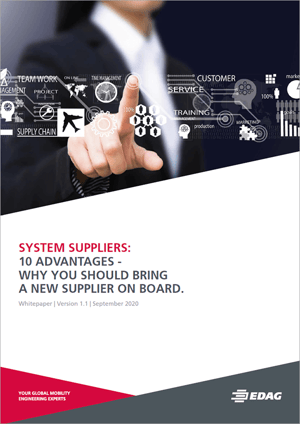 Relationships with suppliers are often a decisive factor in a company's success. But even if a connection of this type has existed for a long time, this does not necessarily mean that it always free of errors.
Are your service providers established internationally? What specialist expertise do they have? Do they actively support you with innovations, do they sometimes think outside the box? You should ask yourself all these questions, because choosing the right supplier is a key success factor for your company.
This white paper aims to give you the right answers to these and other questions. It summarises the ten most important advantages that support the argument for a new (supplier) partner. It should help you to examine your current structures and find the best counterpart for your company's success.
Advantage 1: Locations. International orientation.
Advantage 2: Expertise. Technical know-how.
Advantage 3: Range of products and services. Added value.
Advantage 4: Innovations. New technologies.
Advantage 5: Communication. Honesty.
Advantage 6: Project management. Process coordination.
Advantage 7: Documentation. Traceability.
Advantage 8: Professionalism. Reliability.
Advantage 9: Certifications. Accreditations.
Advantage 10: Supplier's soft skills. Added value.
Register now and download the white paper.
Download now
* Required field
** EDAG Group: EDAG Engineering Group AG, EDAG Engineering GmbH, EDAG Production Solutions GmbH & Co. KG, EDAG aeromotive GmbH