Our world will become increasingly complex and volatile in the future. This complexity requires a high degree of flexibility to keep pace with this modern evolution. Rising emissions, noise, congestion and overcrowding in urban centres are placing an increasing burden on people and urgently call for new mobility concepts to counteract this.
Bundling competences ensures flexible acceleration of development processes
Development processes must therefore be agile and automated, interfaces optimised. EDAG combines all the necessary competences and thus all the relevant building blocks to successfully cover the development cycle and to continuously develop and improve mobility concepts with the help of real data, thus quickly picking up speed.

Closed-loop engineering combines our know-how from

The EDAG CityBot - a networked, autonomously driving robotic vehicle as a holistic component of the smart city.
We can read and evaluate his collected data with our self-developed software ED::MEDAAN, a fully comprehensive measurement data ecosystem for the high-performance, scalable and cost-effective analysis of vehicle measurement data, and then use it to react quickly to necessary changes.
Generative design offers us agile and automated development processes through the automation of components in product development and thanks to software solutions such as Autodesk Fusion 360 or ELISE.
Our flexible manufacturing solutions enable us to produce the constantly changing EDAG CityBots.
Our brand Feynsinn supports companies in the digitalisation of their product creation by simplifying processes, automating systems and networking.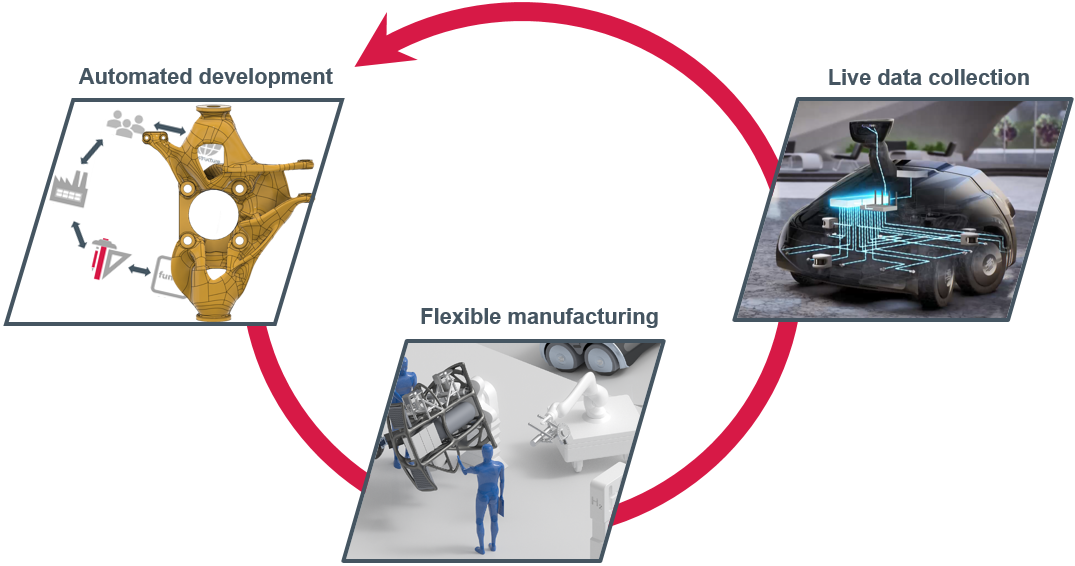 In our video, you can see an application that we carried out as part of a cooperation project with Autodesk based precisely on these elements. In our specific case, it is a wheel carrier for which we have set up a closed-loop engineering process.
In addition, the presentation shown is available for download.
Find out more about how you can bring your mobility concept of tomorrow onto the road with solutions from EDAG.
watch video and download presentation now
* Pflichtfeld
** EDAG Group: EDAG Engineering Group AG, EDAG Engineering GmbH, EDAG Production Solutions GmbH & Co. KG, EDAG aeromotive GmbH