Mobility concept of the future
The EDAG CityBot
The EDAG Group presented the AI prototype of the EDAG CityBot at the Tech Summit from 26 October to 5 November, 2020. With this new development, the EDAG Group demonstrated the fact that the EDAG CityBot mobility concept is a technical possibility.
The live presentations met with an overwhelming response from vehicle manufacturers, series suppliers, politicians, city representatives, and even the Federal Ministry of Transport. In personal or live streaming appointments, the numerous participants were able to experience the next level of artificial intelligence in action in our laboratory.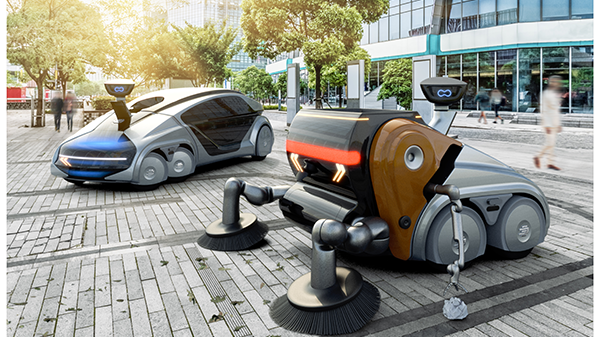 In order to bring about the waste disposal application demonstrated, our project team has been working on complex and diverse technical developments over the last months:
an extremely agile driving and drive system, AI-supported object recognition, a vehicle control unit (VCU), as well as self-localisation and trajectory planning for the AI prototype. To put it in a nutshell: the skills that will be needed in the future to create robot or autonomous vehicles.
Watch the webinar again now and experience the future of mobility with us!
Register now and watch the webinar
* Required field
** EDAG Group: EDAG Engineering Group AG, EDAG Engineering GmbH, EDAG Production Solutions GmbH & Co. KG, EDAG aeromotive GmbH