EDAG's vision: "Our city of the future is clean, safe, worth living in, friendly, quiet and smart."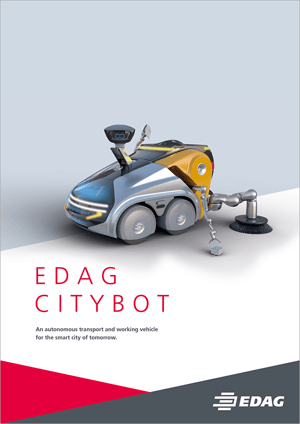 Influx into the cities remains unchecked. So migration from the land does, too. All the signs are pointing to urbanisation. Cities are now sounding the alarm.
It is becoming increasingly evident that individual, delivery and service traffic, which has been growing constantly for decades, has reached its limits. Traffic congestion is becoming a health risk and a serious burden on the quality of housing, living and working conditions in urban areas.
Simply shutting down road traffic is not a feasible alternative. Mobility and being on the move do, after all, determine our daily life. For individual transport to continue to be possible even in densely populated areas, further traffic and mobility services that will genuinely ease the situation in our inner cities are called for.
THE SOLUTION: EDAG CITYBOT
The EDAG CityBot ecosystem is a fully integrated concept for the city of the future. To bring it about, EDAG has bundled all the engineering competencies of its core divisions Vehicle Engineering, Product Solutions and Electrics / Electronics in a unique way.
EDAG has been developing innovations for 50 years. The implementation of the EDAG CityBot creates the basis for a completely new interpretation of inner-city mobility and quality of life. Not as a science fiction fantasy, but as a system that is actually feasible and at the same time economically viable.
Register now and download the white paper.