Smart Production and Manufacturing Processes: To Reduce Costs and Increase Efficiency.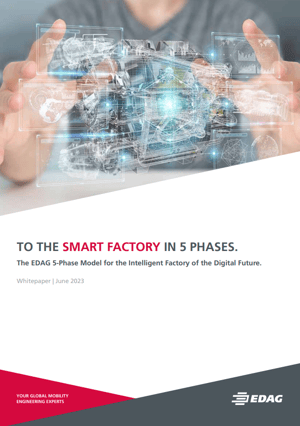 Digitalisation is also accelerating the enormous success of the smart factory. Its rapid reaction and enormous flexibility within the production process not only increase efficiency, but also reduce costs.
But the way to your intelligent factory can be time-consuming and resource-intensive, and the ways in which it might be implemented are complex and also extremely varied.
So it's good to have an expert at your side, someone who from the outset will ensure that the optimum solution for your own particular requirements is found.
Benefit from our in-depth know-how in product and production development as well as our many years of experience gained from numerous successfully implemented Smart Factory projects for our customers in a wide range of industries. So you too can soon benefit from the advantages of integrated production.
In our 5-phase model, we would like to show you how easy the path to a future-proof intelligent factory may also be for your company.
Phase 1: The Smart Vision - Are we actually a good match?
Phase 2: The Analysis: Where is your pain?
Phase 3: The Concept: Why the intelligent factory is worth your while.
Phase 4: System Development: Your Smart Factory becomes a reality.
Phase 5: System Manufacturing: From this point onwards, the Smart Factory pays off for you.
Register now and download the white paper!
Download now
* Required field
** EDAG Group: EDAG Engineering Group AG, EDAG Engineering GmbH, EDAG Production Solutions GmbH & Co. KG, EDAG aeromotive GmbH