Welcome to join EDAG'S Friday Kickstart together with Annelie Pompe!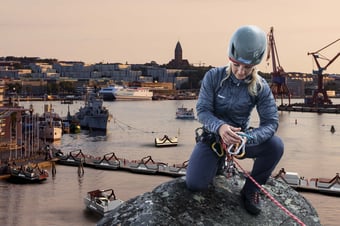 Annelie Pompe is a professional adventurer from Sweden who has set a 127m world record freedive on one breath and then just seven months later summit Mount Everest through the challenging north face.
Annelie believes adventures are more about attitude than adrenaline. As she spends most of her life in nature and has seen the effects of humans everywhere, she believes in giving back to nature through sharing and caring.
Just like with Annelie's adventures, we also face huge challenges and responsibility await ahead when it comes to shaping the future of mobility in a sustainable way. We look forward to hear from Annelie and learn from her experiences of making the impossible.
Get inspired and motivated:
Take Annelie's

best advices when it comes to breaking boundaries and reaching what can be seen as the impossible from start.

Get a fresh view of EDAG today including exciting projects and our view of tomorrow's mobility.

Take the chance to get a super start together with Annelie and us at EDAG Engineering Scandinavia.
With your registration you will receive the recording of the Friday Kickstart with Annelie, so you can watch the video on demand.
REGISTRATION FOR THE FRIDAY KICKSTART ON DEMAND
* Required field
** EDAG Group: EDAG Engineering Group AG, EDAG Engineering GmbH, EDAG Production Solutions GmbH & Co. KG, EDAG aeromotive GmbH