WELCOME TO JOIN EDAG'S FRIDAY KICKSTART TOGETHER WITH ANJA PÄRSON!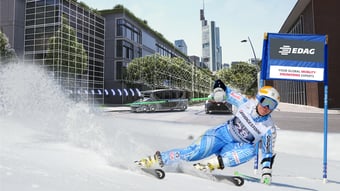 Anja Pärson is after her incredible career one of the world's most appreciated alpine skiing stars and a true legend not only in Sweden. Just as she has excited us over fantastic victories and success, she also made us breathless numerous times with intense crashes and drama.
In the end Anja still demonstrated that she was best when most at stakes. Whatever challenge that was given her, she always came back stronger and by being the first winning world championship gold medals in all alpine disciplines, she became one of the greatest athletes of all times.
Get inspired and motivated:
Learn from Anja on how to stay motivated through tough times, true winner mentality and how to be courageous when most needed
Get the latest EDAG news on how we make a difference together with our customers
Take the chance to get a super start of this friday together with Anja and us at EDAG Engineering Scandinavia.
Please notice: The Friday Kickstart will be held in Swedish. With your registration you will receive the login data for the live event. If the date does not suit you, register anyway and receive the recording a few days later, so you can watch the video later on demand.
REGISTRATION FOR THE FRIDAY KICKSTART
* Required field
** EDAG Group: EDAG Engineering Group AG, EDAG Engineering GmbH, EDAG Production Solutions GmbH & Co. KG, EDAG aeromotive GmbH